Content Marketing is an excellent way for SaaS businesses to create awareness for their brands, earn loyal customers, and gain an advantage over competing brands. Yet, even with the several benefits of content marketing, studies have shown that only about 11% of SaaS businesses invest in content marketing strategies. For the few companies that invest in SaaS content marketing strategies, the content they create often fails to align with their business goals.
In this post, we'll consider tips on how you can perfect your business's SaaS content marketing. But before delving into that, let's consider the definition of SaaS and the benefits of having a content management system (CMS)
SaaS Marketing definition
First off, SaaS means Software as a Service. SaaS companies often engage in a B2B OR B2C set up where you hire out cloud-based servers, databases, and software to other businesses to enable their customers to access applications over the internet, usually via a web browser. Examples of SaaS companies include BigCommerce, Dropbox, Google Apps, ZenDesk, Slack, MailChimp, and Hubspot.
While SaaS marketing is the targeted strategy, you can use to market your company's kind of server, database, or software to get the highest conversion rates possible. Thus the first step towards perfecting your SaaS content marketing is to get a reliable CMS.
Having the right CMS for your SaaS business will enable you to edit, manage, and maintain your website's existing pages in a single interface without any specialized technical knowledge. Other important reasons why you would need a content management system for content marketing is that:
It helps create a uniform look for your web designs
It lets streamline your workflow.
It enables you to develop a good SEO ranking for your business.
It enhances collaboration and sharing with others.
Also, try not to rush into selecting any CMS based on only features. There are CMS like Agility that come with added-value services besides its excellent features. Agility CMS likewise provides your business with content marketing services that enable you to:
Implement a content-first approach
Use videos to improve engagement with your target audience
Use long-tail keywords correctly.
Craft easy to read and engaging content
Use high-quality, relevant images
Personalize of your brand's message in a way your target audience finds it relatable
With a better understanding of SaaS business and CMS, let's look at some tips and best practices for perfecting your SaaS content marketing strategies and growing your software business.
Do Your Research
Every content marketing strategy begins with a plan, and to have a well thought out plan; you need to carry out some research. Because you are not building your brand based on your imaginations, your research needs to be an industry-wide search. The first thing to search for is the kind of topics that generate interest around the type of server or software service your SaaS business is offering.
The next thing is how you go about your search. Besides asking your customers via reviews and feedback, questionnaires, or surveys, you can use tools to help you gather organic search results for user intent and the search volume for topics. It provides an accurate read on the types of content people want. Alternatively, you can use general search tools like Google's Suggest feature and competitor search tools like SEMrush to know what your competitors are doing.
With Google Suggest, you can search for keywords or phrases that relate to your product. At the bottom of your search result, you'll find the list of similar searches. You'll also want to take a look at the related and suggested. These can serve as perfect secondary keywords.
For example, if you want to provide database or software cloud services to a paper writing reviews sites like Online Writers Rating, you'll need to go beyond the main topics. Let's consider the related search that pops up in a primary paper writing service topic such as "cheap paper writing service" from the picture below: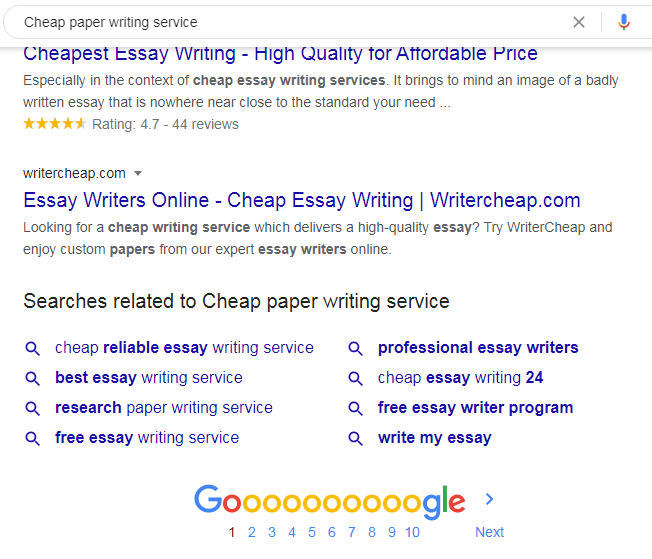 You must include other related results that can help create content that engages all your target customers.
Additionally, you can use a tool like SEMrush if you want to search for a competitor's domain name and their organic keyword report. The results will highlight keywords your competitors are currently ranking for and the amount of traffic each keyword brings to their website.
Create Specific Content for Each Sales Funnel
As a SaaS company, your main goal for content marketing is to convert your potential customers into first time buyers, repeat customers, and loyal customers who also give referrals. To turn such a customer from a prospect into a buyer and push them further down the sales channel, you need to create content that appeals to them in each phase of the classic marketing funnel.
A successful content marketing plan should have these stages:
Awareness: attract your target audience to discover your software and show them how it can solve their problems. The content needs to include the keywords you gathered from your research. It should also be informative, relevant, and entertaining enough to grab your audiences' attention.
Lead Generation: in this stage, personalize your content so that it speaks directly to the potential customer. The content needs to be persuasive and well-written. If writing isn't one of your strongest suits, you can use professional writing services such as Best Writers Online. Your content should let prospects know exactly how it can solve their problem, what added advantage your software gives, and call-to-action, letting them know what step you expect them to take next.
Trial Sign-Ups: in this stage, you can offer a 7 to 30 days free trial period. It gives your potential clients a hand-on experience of what using your services.
Conversion to Paid Customers: this is where you go all out to convince the customer to buy into your SaaS after the trial period. The content you provide should help them use your service better and convince them to become paying customers.
Customer Retention: after the customer buys for the first time, you need to look for ways to retain them as lifelong customers. You can repurpose old content, give them bonuses and discounts, create loyal programs, and 24 support lines to improve your retention strategies.
Develop a Traffic Generation Strategy
Putting in all the resources to create fantastic content for your SaaS business without anyone interacting with it, means all your efforts become futile. When creating and planning your content strategy, you should also have an idea of the channels you want to distribute and promote your content. Some of these channels include:
Social Media: look for the best social platforms to find your target audience and where your content will be well received.
Paid Promotion: this is an excellent channel for SaaS 'businesses that are just starting up, since it may be challenging to compete with more prominent brands in the search engine result pages.
Search Engine Optimization (SEO): optimize marketing content for search engines. It helps get your company and services seen at the top of every user's search engine results. Ensure that you use long-tail high intent keywords when creating SEO relevant content. It's because long-tail keywords with increased buyer intent trump high-volume keywords with no buyer intent.
Diversify Your Content: always creating the same long written text can get monotonous. Remember that your target audience is diverse and have different tastes. To make your content more engaging and continuously fresh, you can include podcasts, blogs, visual content, and infographics to showcase your business in multiple ways, engage prospects, and build sales.
Co-Marketing: you can improve your SaaS content marketing by collaborating with other SaaS businesses. It works wonders when you co-market with a brand that offers complementary products or shares a similar business approach. The resource you pull in can potentially lead to each other getting their service in front of a wider audience. But both parties must clearly define and understand the expectations of the collaboration.
Take, for example, this co-marketing campaign between Hubspot and LinkedIn: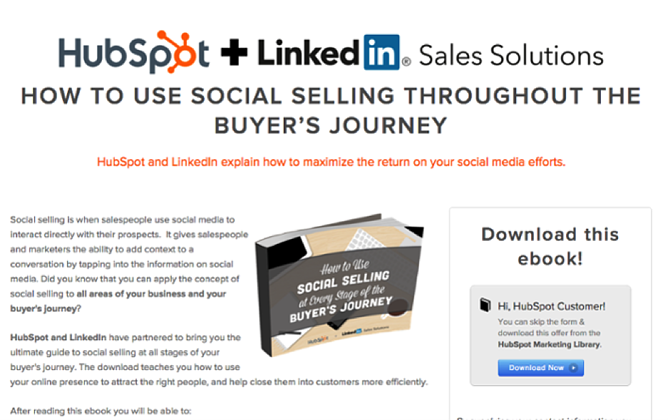 Conclusion
When used effectively, SaaS content marketing is beneficial for the growth of your SaaS business. The vital element is to understand your audience and what interests them. Then find ways how your content can engage them through each stage of your sales funnel for an increased RIO.