Welcome on board
Hi and welcome on web-eau.net.
My name is Daniel and I'm a French webmaster based in Brittany. I'm freelance since 2013, I've started to blog in 2014 and since, I have written more than 500 articles, tutorials and others contents. I'm also a Joomla volunteer as an active part of this community.
I try to provide good content to my readers with informative and quality posts. All my article are unique and I write first for the humans. Web-eau.net is #HumansFirst focused. However and because ranking is important, I also care about the search engine guidelines.
Guest blogging is a win-win partnership: the writer enlarge his.her audience, the blog gets new contents. The purpose here is to help you to reach out to a new audience base, share your writing talents, and perhaps most importantly, give something back to the community. By my side, I open my blog to guest posts because I want to provide benefits and more interesting and international content to my readers.
About you
If you're interested to post articles on my blog, you're welcome. Here are some useful info for you.
You are a blogger? You love to write content on your expertise field which is relevant to my blog topics and categories? Awesome, you're in the good place.
To be honest, I dont expect good content from you, I only expect awesome articles :) My readers must fall in love with your articles.
If you want to submit a sponsored article, it's also possible with some peculiarities (see below).
Interested? Great, I encourage you to read this article entirely to discover how to submit your first article here.
About this blog
First, head over to my blog homepage and check out the pages to understand what kind of articles I usualy publish here and what kind of articles my readers engage with the most.
Write content that is solely focused on quality and adding value for the readers. Nothing else matters
Here are the topics accepted on web-eau.net blog. Doing a search here is a good practice to avoid submitting already published ideas.
Joomla and his eco-system, extensions and tutorials,
SEO tools, software, and case studies,
"How-to's" and listified articles,
Please, don't contact me for publishing contents or links about casinos, gambling, pills, dating, cryptos or guns. Thanks in advance for your understanding.
Guidelines for Guest Blogging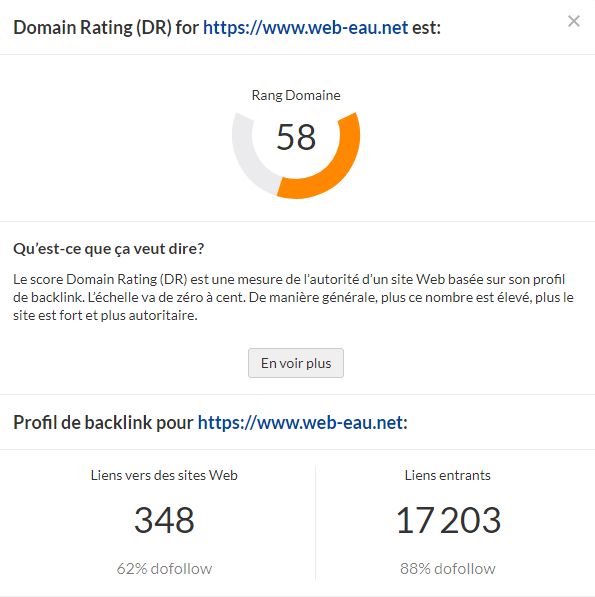 Domain autority - ahrefs
Guidelines for Guest Blogging
Glossary for an Happy Guest Blogging on web-eau.net
Because I'd rather repeat it than forget it, here are few things to remember before sending your first mail and before submitting any guest post:
A

Article lenght: According to the SEO standard (and mine), the length of an awesome article is around 1.500 to 2.000 words. In any case, I will not accept content under 1.500 words. Thanks for your understanding.
Article quality: Articles should be a minimum of 1.500 words and should cover the topic in detail. Incomplete articles are like semi episodes on Netflix, no one loves that. Quality is one of my major considerations in accepting a guest post. English is maybe not my native language but I know the difference between good writing, bad writing, and mediocre writing. To ensure your article gets published, write a very original piece written specifically for web-eau.net.
Article rewrite: By submitting your article on web-eau.net, you accept without reserves it can be edited by web-eau.net without changing the general meaning of your text.
Author biography: As an author, your avatar, your bio and the links to your website and social networks will be displayed at the bottom of your articles. These links are nofollow. If you want to publish articles on web-eau.net, this is the very first step to achieve.
C

Comments: Comments are the conversations posted about your article. I encourage authors to answer any queries related to their articles via the comments. This will give them more exposure and help out the readers.
Copyright: I respect everyone's work. In case I find out that you have copied a post from somewhere else, you will get an instant ban and immediate removal of all your blog posts and profile from web-eau.net. Also, by submitting a post to web-eau.net, you give me copyright ownership of the post. This helps me to deal with any DMCA related issues. Thanks for your understanding.
Credit: If your content is derivative of someone else's work, feel free to give them credit. The same goes for images that you'll use on your post. Please give credit where credit is needed. Simple matter of respect.
F

Format: To make it simple, I'd rather receive your entire articles in HTML format. If relevant and needed, add the metadata markup when and where it's possible.
G

Google guidelines: Because everything must be clear between us, here are some official Google guideline to respect as a guest blogger here:

L

Links: Feel free to add anchor text to the links if it's relevant. Your outgoing links must respect the thema of your article and the topics of my blog. Keep in mind that the only option here is to follow the latest Google's guidelines. If you're writing blog posts as a way to generate backlinks to your site or your company, forget it. You should seriously rethink this dumb strategy because one day it's not only going to burn you, but also the blogs where your content is publish. Without me.
S

Screenshot & video: Images speak a thousand words. Add images to convey your message, but don't add them just for the sake of it. If you are writing tutorials, take screenshots. If you are a vlogger, add a video published on your Youtube channel in your article.
Sponsored article: Submitting this kind of article is also possible on web-eau.net. In addition to all the qualities required for guest posts, a sponsored article must have the rel="sponsored" on the outgoing links as required by Google, have a mention "Sponsored article" displayed on the page (required by the French laws) and will be paid via Paypal with an invoice. This is not negotiable.
Submitting process: First, get in touch to send me the outline of your content. Once it's accepted, write and send me your complete article (don't forget to join the images) at This email address is being protected from spambots. You need JavaScript enabled to view it. with "Guest Post Submission" as subject of your email.
This guideline is displayed at the bottom of this list to be sure that only motivated authors will read it ;)
T

Transparency and trust: Because we are professionals, we work in transparency, with trustful and we don't have time to lose. Due to some abuse, I've decided to work only with clearly identified SEO agencies and content writters. So, if you want to submit a blog post or a sponsored article, you won't have any issue to share the link to your website and your social medias. Thanks for your understanding.
This list is subject to change without notice. Consult it regularly to be sure to follow and respect my guidelines.
Want to join us and publish your article here?
Great, one more click are you're done :)
Contact me!
Guidelines for Guest Blogging