An online presence can make it easier for potential customers to locate your business and boost awareness as well. So, it's a good idea to create a website for your cleaning company. However, you need to learn the basics of building a website, like what makes a great one.
In this article, we will discuss ten tips for designing a high-quality website for a cleaning business, but first, we must understand why it's essential that a cleaning company has a website.
The Benefits of Having a Cleaning Business Website
Having a website is a wise investment for any cleaning company. Your business can benefit from a website in the following ways:
1. New Customer Acquisition
Creating a website for your cleaning business is an important means of attracting more customers. You appear in the search results of Google or another search engine when a potential customer searches for a local cleaning company. This also helps potential customers visiting your website learn about home cleaning services and become familiar with the brand.
For your online platform, it's a good idea to get a minimalist and appealing logo that engages your audience from the first look. You can consider a cleaning logo maker tool to create a brand symbol for your website.
2. Promoting Your Business
Websites for cleaning companies provide valuable marketing opportunities. Using an effective website can promote your cleaning services with little financial investment.
3. Gives Credibility to your Organization
When a potential client hires your cleaning service, they want to know that you are a reputable business. It is important to have a website that lets your customers see that your business provides high-quality services to its clients. Positive reviews show your potential customers that your current customers are happy with your services; thus, it establishes high trust.
10 Tips For Designing a Cleaning Service Website
Here are ten helpful tips for designing a cleaning business website.
1. Use a High-Quality Template On Your Website
First impressions count, and visitors' first impression of your website greatly matters. While some individuals will look past a website's design and engage in a business relationship, most will not.
Your website's presentation reflects your business's image. Most people believe that if your website has poor design and does not work correctly, it is indicative of how the rest of your business operates.
Your goal should be to avoid giving potential clients any hesitation about doing business with you after they become familiar with your company. It is, therefore, crucial to have a website that demonstrates your professionalism, expertise and is user-friendly.
The quality of your website's template can help you accomplish this. A template with a large number of moving parts should be avoided. The website design of many companies utilizes sliding menus and sliders that pop up and disappear as you scroll through the site.
Don't use such templates; only opt for clean ones that load quickly and where the user can navigate easily. You can always check out different Joomla templates that are light and high quality as well.
2. Communicate Your Message Properly
Professionalism is certainly an integral part of your cleaning business website. People will only take your cleaning business seriously after visiting your professional website.
Most visitors will remain on your website for a long time if it is professional. Besides a well-designed website, you must ensure that your messaging is clear and attractive to your target audience.
There are several things you should include in your messaging. As a first step, you should highlight the core difference in your message. A potential client should choose you over your competitors because of what differentiates you from the competition.
Providing a wide range of features and services is not the only aspect of what makes you different. Take a moment to consider the benefits behind the features and the services you can provide that no one else can. Show your ideal customer exactly how your services can solve their pain points and problems.
3. Don't Use Stock Photos, Use Real Ones
You now have a professional-looking website with engaging messaging, but you also need a way of cultivating trust among your website visitors. Having real photographs of your employees, equipment, and processes is an effective way to establish trust.
You should remember that how you run your business is reflected in your website and online presence. People may be misled into thinking you are a new business when they visit your website and see only stock photographs.
Unless you show real photographs, it can appear as if you are hiding something or doing little business. People do not want to do business with a company that is perceived as struggling to gain or retain customers.
Your website design is more effective if you include real photos as they put a face to your business.
4. Provide a Mobile-Friendly Version of Your Website
It is important to remember that people do not have patience, and if your website cannot be navigated by them using their mobile or tablet, they will just jump straight off and go to that of your competitors.
It is also important to note that Google penalizes non-mobile-friendly sites, so if your website is incompatible with mobile devices, you have less chance to rank well. Besides, nearly 58% of internet traffic comes from mobile devices, and if your website needs to be optimized for mobile, then you are missing out on a big chunk of traffic.
5. Add Relevant Content on Your Website
The content of your cleaning business website should also be considered. A website can contain several types of content, such as blogs, business pages, service pages, and location pages.
In many cases, cleaning companies overlook this part of their website design, leaving them vulnerable to losing credibility with potential clients. You can reap several benefits by developing an effective content marketing plan.
Using this method, you can convey to potential clients that you are an authority in the cleaning industry. There are several ways in which people may access your website. Visitors may have come to your website when searching on Google, viewing an advertisement, or responding to a posting on social media.
How do you ensure people know you offer what they seek when visiting your website? Your company may provide carpet cleaning, floor care, house cleaning, and more services, but how many people know of your services? Make a service page if the service is one of your top priorities. People will likely choose you over the competition if they see a service page on your website dedicated to the service they seek.
6. Provide a Contact Form
Most customers contact you by phone; however, there are occasions when they can't call you if they are busy or at work. That means you must provide an alternative means of communication for them. A contact form can be added to your website to assist with this.
Here is a bonus tip:
Customers seeking an immediate response will likely contact multiple cleaners for quotes. If you wish to ensure that you win the contract, you should respond to your contact form messages as soon as possible.
7. Show Your Reviews and Testimonials on Homepage
Another important aspect of your website design is highlighting customer testimonials and positive reviews. There is intense competition in the cleaning industry, so you must convince potential clients that your business is the best.
Highlighting positive testimonials from your existing customers is one of the most effective sales tactics you can employ on your website. Take a moment to recall the last time you watched an infomercial. During the program, how many clips were shown featuring satisfied customers? The infomercial likely featured several testimonials regarding the effectiveness of the product.
The same principle applies to promoting your cleaning business since most people rely on reviews to make purchases. You can increase the sales of your cleaning services by having a 3rd party explain the value and benefits of your service.
8. Utilize Landing Pages and Feedback Forms
Your website should have dedicated pages for landing, and thank you for helping you convert your visitors and track your leads. Landing pages are websites to which specific traffic is directed to convert them.
Utilize a landing page if you run paid advertising on your website or simply wish to turn relevant traffic into customers.
9. Add Call to Action (CTAs)
You cannot build a great website if you do not encourage visitors to take action. It is important to include call-to-action buttons (CTAs) throughout your web pages.
An example would be a button that directs the user to enter their email for a one-time discount or a button that says, "Get a free quote" on the homepage. Or have a "Book now" option on your services page.
10. Take Advantage of SEO Optimization Techniques
Last but not least, you should add some SEO optimization to the design of your cleaning company website. The technical part of your website design may seem overwhelming, but you can find detailed step-by-step instructions online for most processes.
Embedding Google Maps on your website for your service area is one way to optimize your website design. By putting them on the map, these pages can be associated with those locations, making them more relevant to searches concerning those locations.
In the footer of your website, please include your business name, address, and telephone number. Google and other search engines will see a website with these features as more credible.
Finally, ensure that the pages on your website are linked together. Suppose that you offer residential cleaning and upholstery cleaning services. Make sure to connect both of your pages to indicate that the two pages are related. This will assist search engines in crawling your website and recognizing new pages more quickly.
Best Joomla Templates for a Cleaning Service Website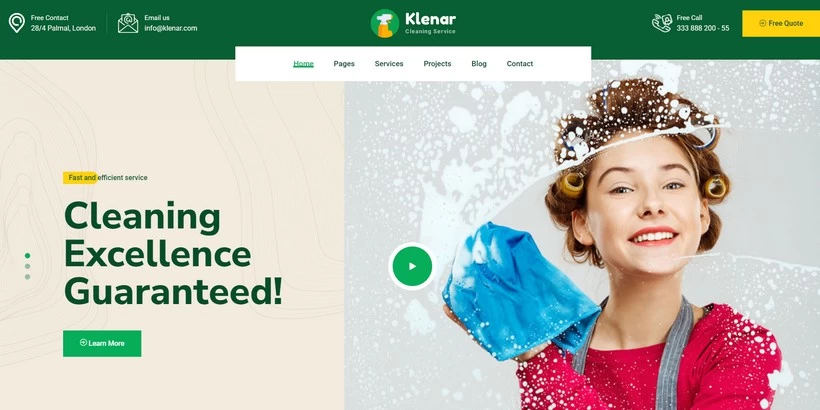 Main Features:
Fully responsive design
3 visually stunning Home pages
SEO on-page optimized
All Modern Browser Compatible
Detailed documentation
Main Features:
Fully responsive design
Clean and Professional Design
Unlimited modules positions and colors
Multilingual Support With RTL
Free Lifetime Updates
Main Features:
Fully responsive design
Built on Powerful Sparky Framework
Google Mobile-Friendly Test PASSED
3 pre-defined color styles included
Support for RTL (right-to-left) languages
More about Cleaning Cleaning demo
Main Features:
Fully responsive design
10 different demo homepages
Our team page (6 demos)
8 different color options
Departments, service and Appointments, pages
More about Temizlic Temizlic demo
Main Features:
Fully responsive design
Clean and Professional Design
Total control with Multiple Color Choosers
Mega Menu Builder & Off-Canvas Menu
Quick, Dedicated & Professional Support
More about Sanitax Sanitax demo
Main Features:
Fully responsive design
Helix Ultimate Framework
Retina/Mobile logos ready
Cross-browser Compatible
Detailed documentation
More about LT Inclean LT Inclean demo
Main Features:
Fully responsive design
4+ Homepage Layouts Variations
Pixel Perfect Design
Mega Menu Builder & Off-Canvas Menu
Quick, Dedicated & Professional Support
More about Clentrac Clentrac demo
Conclusion
Designing a website for a cleaning service requires careful consideration and attention to detail. By implementing the ten tips mentioned in this article, you can create a website that showcases your cleaning services, attracts potential customers, and helps your business grow.
An effective website helps to set your cleaning service apart from the competition and drives success in the digital landscape.