In the last few years, the world has changed, and the internet has become a place where people are able to access and buy anything, anytime. This has led to an increase in the creation of small business websites.
Chances are you're on a tight budget and you may be thinking about starting your own website because you have an idea for a new product or service, but you don't have a lot of cash to invest in creating or designing a professional website.
Luckily, there are several easy ways to get around budget constraints. So without further ado, let's take a look at these 9 points you should consider when creating your small business Website on a budget.
Create A Small Business Website On A Budget
When Budget Concerns
If you're just starting out with a small business website, you have to figure out how much money you have to spend on it and then make a marketing plan around that budget because creating a small business website is not as easy as it may seem, especially when there is no budget in place.
A budget is one of the most important things you can do for your small business website because income and expenses are two important factors that determine whether or not your small business website will be successful.
It will help you determine how much time and money you have available for your project, and once you have defined your income and expenses, you can create goals for each category to know what needs to be done and how.
Have Clear Set Goals
Knowing what to expect when creating a website for a new business is helpful because the purpose of your website should be clear and direct.
Before you start creating your website, you need to have a clear idea of what kind of website you want and think about the information you want to share and the services you want to offer.
It's very easy to get lost in the details when you are working on your small business website. That's why you need your goals to keep you on track while also making sure that you have a clear idea of what you want to accomplish.
Your business goals will determine the size of your budget and vice versa. So, if you want to grow your online presence by attracting more customers and selling more products, then you need to invest in a larger eCommerce solution that can handle more traffic.
But if your website's main purpose is informational, like a blog, you can expect the design and development costs to be lower. That is, you will likely have a smaller budget for the design and build.
Create A Small Business Website On A Budget
Get Your Domain Name
You don't have to break the bank when looking for a domain name when creating your small business website. In fact, there are many available options that are affordable today that can help you get started without spending much money.
The domain name is the URL that links back to your site - https://mybusinessname.com - which search engines use when they index websites. So having one with your chosen business name is important.
This domain name will be used to direct visitors to your website. It can be purchased through a web hosting company, and the best way to get your website off the ground is to buy a domain name that describes your business, such as "sports updates" or "fashion ideas".
The domain name should be available and secure, and you can use hosting companies such as PlanetHoster, Hostinger, or CloudAccess to get started with your domain name and web hosting because these platforms provide both affordable domain names and dependable web hosting plans.
Use A Reliable Web Host
Once you have your domain name, you can search for web hosts and create an account with them. These hosts will give you everything you need to host your website, like space on their server, email accounts, and analytics tracking tools so you can track how visitors use your site.
When choosing a web hosting company, look for one that offers affordable packages but also has great customer service options. It's important that your site be easy to navigate so visitors can find what they are looking for quickly.
Hosting lets you access your site through an internet browser, so visitors can access it from anywhere in the world. A good web host also lets you easily upload files online. The startup costs for a small business website are low, but you'll still need to pay regularly for the service that powers your site.
You can find web hosts that are free or have no-cost packages, but these tend to be limited in features and often use shared hosting services, which means your websites will share resources with other websites on the same server.
A good host will offer free trials and upgrade packages, which make it easy to test out new features and see how they perform over time. And don't forget, the more content your site has, the more you'll need storage space and bandwidth.
There are many companies out there offering cheap hosting services, but this can end up costing you more in the long run. Instead, consider using services like PlanetHoster, Rochen or Hostinger. They are well-known, reliable and have good customer service, so you shouldn't encounter any problems with them.
Create A Small Business Website On A Budget
Research Content Management Systems (CMSs)
A website built with a content management system (CMS) usually costs less than one that is built from scratch. You can research several website builders and content management systems to see what fits your needs; creating it yourself with the included tools will allow you to keep your costs down.
If you plan to create your small business website, you'll need an appropriate content management system (CMS) to manage them all — especially if you're going mobile-first or responsive design-first.
You'll need an application that manages the content on your website as well as what information is available on the site by creating custom pages and fields for each one.
You can choose a CMS like Joomla — this is because Joomla powers most small business websites out there today and is free to signup and use. It has millions of websites using it worldwide, and you can also try Drupal or WordPress, which are both open-source.
These CMSs have templates - for the design - and plugins that editors can use to give users on desktop computers, smartphones, and tablets a more personalized experience.
It's important that you install the content management system (CMS) correctly so that it works properly with your web hosting account and with any other software or services you use on your website.
Choose a Template
This may seem obvious, but choosing the right template will help save time and money in the long run. Just like CMS, template-based websites are typically less expensive than having a custom site developed for you.
No matter what CMS or website builder you use, you can find templates, themes, and plugins to help you build features and functionality. Pick a template that fits your aesthetic preferences and has the functionality you require.
The time and effort you save using a template, or plugin makes them cost-effective. There are hundreds of free and premium templates available online that can help get you started. However, it's important to choose the one that best suits your needs.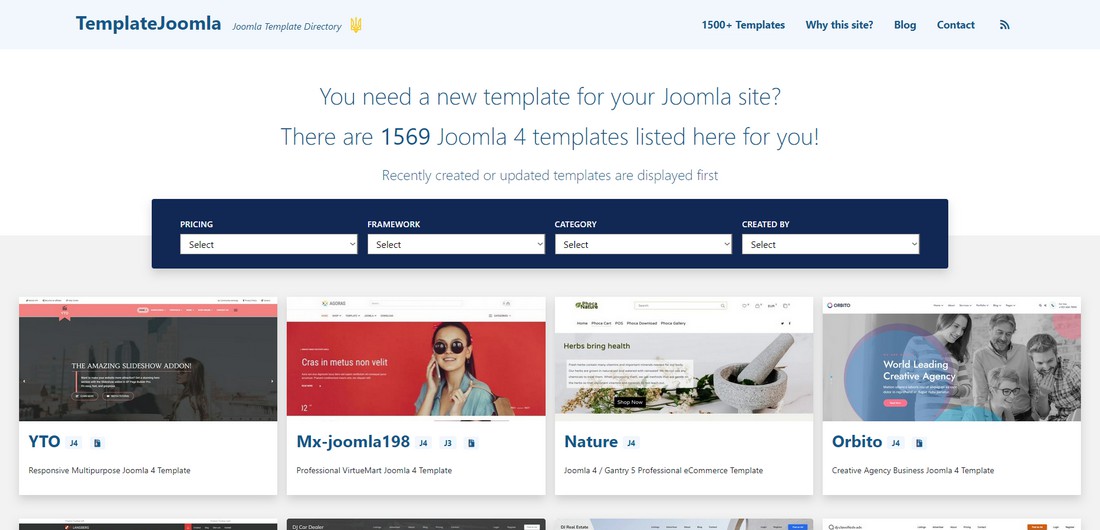 Templatejoomla.com - Joomla 4 templates directory
You will want to make sure you have the right template for your business because it will play an important role in how people view your site. Choose a template that's easy to use and understand, and don't be swayed by the bells and whistles.
Some are cheaper than others, some are easier to use, and some have more features. So choose a template that is simple, has only the features you need, and doesn't require much effort on the part of visitors to navigate around.
Once you have found the perfect template, you can install it on your small business website to get started.
Create A Small Business Website On A Budget
Make it and Keep it Simple
The most efficient website ever created have only a search bar and a button: Google.
Keep that example in mind while creating your small business website.
Don't try to make a complex site with too many features; stick with what works best for your business right now and add more features down the line when they're needed.
The cost of designing a website tends to rise in proportion to the number of pages and the number of features it has. As a result, unnecessary parts or elements must be removed.
You want a website that is easy to navigate, has the needed information, and provides a good user experience. Just like your visitors and clients!
You don't want your site to look like every other site out there, so make sure the design is unique, simple, and appealing so visitors and customers keep coming back for more!
DIY or Professional?
The question of whether or not to build your own site or hire an expert to do it is one worth considering before getting started with the design process.
There are free and affordable tools available that can help you build your website quickly and easily. However, a good rule of thumb is that if you want to provide value to your audience, your website needs to look professionally done.
But before choosing this route, there are several things worth considering, like the time frame needed to create such a website and your goals.
A lot of businesses don't have time on their side when it comes to building their own websites, and this means that hiring someone else might be the best option for them, which will help save the time that would have been committed to creating the website instead.
DIY website creation is possible with the help of a content management system (CMS) or a website builder, but if you want a custom-made site, knowledge of HTML, CSS, and JavaScript is required. But many small businesses will not have the necessary skills and time to create their own websites from scratch.
Therefore, if you're looking for something unique and custom-made, then we recommend hiring a web designer who will create and design your website to suit your needs. At Web-eau.net, we make Joomla websites for you and your business at an affordable cost, with client satisfaction as our top priority.
If you're not sure whether to go DIY or hire a professional web designer, don't rush it. The design of your website is the first step towards attracting your potential customers, so take your time and get it right
Spend Smart, Spend Less
Even if creating a small business website requires some dollars, you will see now that it's still possible to spend less. Far less.
Every year at the end of November is Black Friday and Cyber Monday. During this period, many companies offer discounts - sometimes very significant - on their products and services.
To save you from scouring the web for these offers, we have published a Special Black Friday article where you will find the best discounts we have been able to collect for you.
Whether it is to buy your domain name, your template, the hosting of your site, its SEO or other, you will necessarily find the offers you need to create your small business website on a budget.
Black friday & Cyber Monday best Offers
Wrapping Up
Having a website will give you a competitive edge over other small businesses in your industry, because a website is the best way to promote your business and reach new customers.
A professional-looking website is not only affordable but it's also within the reach of every small business owner, and once you've created your small business website, you're ready to start putting out content.
You can start by brainstorming ideas about the kinds of content that fit your business while also doing some research on what people expect from websites like yours.
With these tips, you have the ability to create a website that helps your small business succeed without breaking the bank.
Create A Small Business Website On A Budget