Personal branding and business branding are essentially the same thing, as they can promote career and reputation, but it takes a lot of content, communication, effort, time, and dedication to make your personal brand what it is today. I propose you how to achieve this with an easy beginner guide to build your personal brand with content marketing.
An easy beginner's guide to building a personal brand with content marketing
What is a personal brand?
Personal branding is about depicting that you are an industry leader and sharing the experiences, competencies, and expertise you have. It refers to the manner in which you promote yourself and how you're widely recognized, that is, your general perception or impression within the industry. Personal branding can help you get popular appearances, podcast interviews, and guest posts, which can be very difficult to achieve without strong personal brand support.
Your personal brand is the synthesis of all the expectations, images, and perceptions it creates in the minds of others when they hear your name.
Rampersad, 2008
What is the purpose of promoting your personal brand?
This purpose entails your goals, which should be meaningful and capable of being measured, so that the end results can be compared to the original set of goals. The first thing to consider when setting your goals is what you want from your personal brand, that is, what you want it to achieve. Once you know the end result you want, you can start thinking about ways to achieve it.
Safely building your personal brand can make it easier for you to: position yourself as a trusted representative on social media; share your industry knowledge and experience; achieve transparency, mutual understanding, and the ability to gain more trust from the audience.
5 Approaches to Building Influence with Content Marketing
Building Influence of a business and brand building work hand-in-hand with Content Marketing which varies from company to company, and these five approaches have been combined to help you identify the elements needed to achieve it.
#1. Effectively identify the needs of the audience.


The wide variety of choices available to consumers has made them more selective about the brands they interact with, so brands need to define their customers and know what is important to them, what influences them.

Including influencers in this can maximize reach and build trust, so endeavor to gather information about influencers who influence your audience.
#2. Content development based on the identified needs.


Once these needs are identified, content creation will continue to meet the needs.
#3. Engage influencers in your content marketing.


Influencers are an element to include in your marketing strategy if they haven't already. They possess the ability and power to drive traffic to your brand in the presence of their social authority, as social media users over time refer to them for guidance as they believe they are equipped with more knowledge in this area. They are considered the most trusted source of content. Influencer marketing helps companies build positive relationships by building trust and justifying value.
#4. Use influential content marketing techniques.


Impacting traffic on your website and providing value to users is an important goal that should be pursued with content marketing techniques. These influential techniques are:

Data driven marketing; which uses data to search for observations based on analytics to get the most effective content, the best time to publish that content and the channels used.

Personalization and segmentation of audience.
#5. Make your content stand out from the competition.


This can be done through visual content and creative storytelling 'if applicable', to establish an emotional connection with the customer. Adding creative images to complement different types of content will maximize its impact.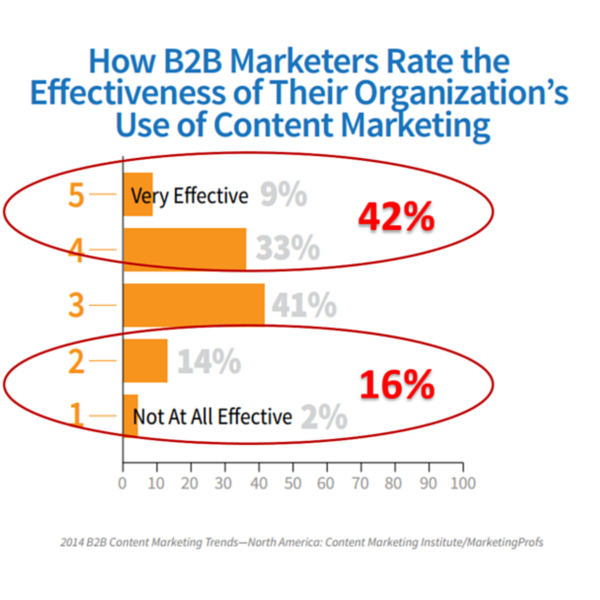 What content helps build a personal brand?
Now that you have your ultimate goal, the next challenge on your list is to engage your audience with captivating but yet informative and original articles. The following types of content can serve as a stepping stone to achieving your personal branding:
Blog posts: The foundation of your personal brand lies in building a blog filled with relevant, captivating and engaging content. It improves your site for SEO purposes and also serves as a platform to educate your audience on topics that interest them.
White Paper: Focusing on topics your audience picks up interest in is one way to improve your personal brand. Such detailed content [white paper] shows the reader that you know more about the particular subject and topic at hand, as well as the problems associated with it, if any and proffered solutions that can be applied.
Social media publishing: Social media marketing experts have recognized that high-quality social media content is a reliable way to gain popularity. There must be a human side to a brand, and this can be achieved through the exchange of thoughts, ideas and experiences on social platforms; that will be of great importance to people; your specific audience.
Guest post articles: Reaching a wider audience has never been easier. This will not only connect you with new audiences and readers, but it will also build their trust in your brand.
Credits: brandyourselfbetter.com
How do you use content marketing to build a strong business brand?
Content Marketing can help your business in ways beyond building brand awareness; and creating valuable, high-quality content is important not only for building your brand, but also for your business SEO.
1. Make your content more humane.
Your brand must be able to communicate as a person to your target audience, as it must embody a set of values related to your audience in order to create an emotional connection with consumers. This will show that your brand cares about its audience, and therefore you should strive to humanize your content.
2. Declare your business culture.
Content marketing can be employed to demonstrate and prove that your company is committed to fulfilling its brand commitments by successfully incorporating your business culture into your content. Portraying this culture in your content shows your audience that you will be consistent with your brand mission, thereby building trust.
web-eau.net is committed to reforestation to fight against climate deregulation
3. Monitoring analytics of social media and its usage.
To understand what drives your audience to follow your brand, you need to track and research how they interact with your content channels. This will help you make your content relevant to them, well planned and personalized.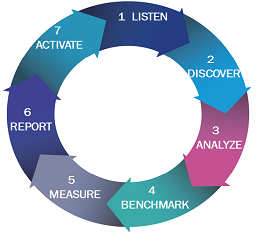 Credits: lexisnexis.com
4. Invest in email newsletters.
Building and maintaining a direct connection with your readers has never been made easier because newsletters are an effective way to help you build a personal relationship with your audience. This connection with your readers is on a personal level, and it can be used to encourage them to spend more time on your site by providing them with valuable content that is part of the creation process of building a strong business brand.
5. Publishing guest posts on related and relevant websites.
Aside from guest posts exhibiting a natural way to build links, there is potential for improving a website's SEO as well. You are even likely to improve your reputation in your industry.
The goal here is to secure an highly authoritative site for your work and content that has the potential of engaging their readers, when the readers see your brand has what it takes to provide them with valuable content when next they are in need of them, so as long as your published content is detailed and informative, your brand will be considered high quality and stand the chance of getting new customers and new potential audience.
6. Use a variety of media.
7. Be creative and unique with your content.
8. Promote your content on social networks and any other effective channels.
9. Be patient while waiting for the results of your efforts, because content marketing takes time.
How to write to promote your personal brand?
Anything that can be useful to you in your industry will most likely also be useful to the audience in your industry; this is the type of content that you should be promoting with the help of your personal brand. Content marketing allows you to promote that information or content and segment it to audiences who crave your unique and well-thought-out ideas.
These approaches can help you promote your brand with inspiring and competent written contents and avoid running out of ideas:
Track your industry role models while staying connected to them. These people serve as a source of inspiration for generating ideas and keeping abreast of the latest developments in your industry.
Pay attention to what is happening on social media and what others create in your industry. It will help you keep up with industry issues, and stay on top of trends.
Keep an up-to-date list of ideas by topic, so that you can easily track ideas that do not come to you right away and use them in a new content.
Study the main problems' audience in your industry seem to be facing and try to find solutions to these problems, that can help them solve their problems.
You can't build your brand without having an effective content marketing strategy.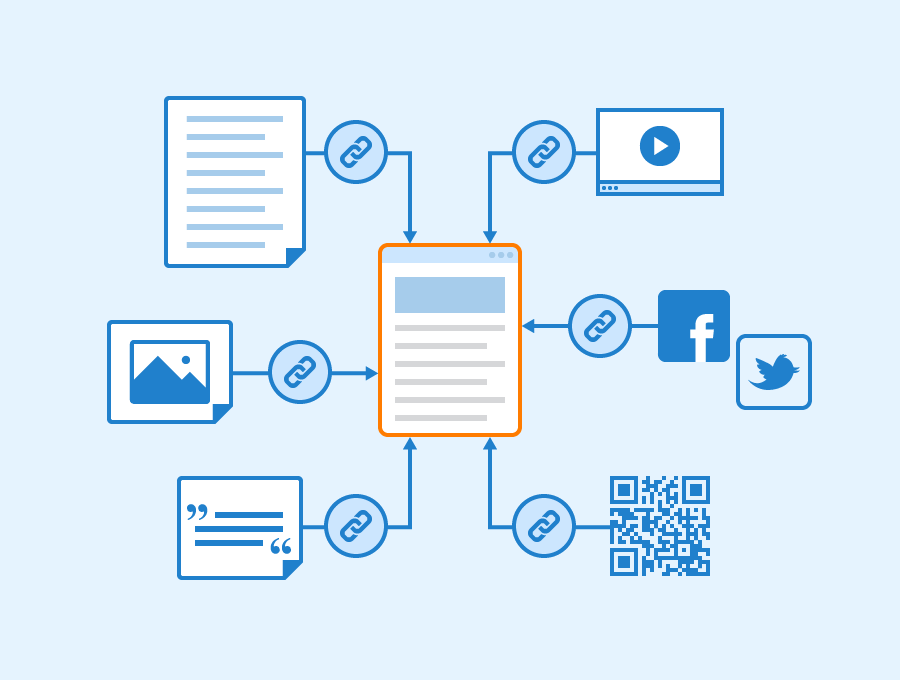 Credits: Seobility - License: CC BY-SA 4.0
Research shows that over 50% of businesses do not have a documented content marketing strategy. Unsurprisingly, strategic companies often believe that their content marketing efforts will succeed, and without a strategy, success or failure is just luck, and you may waste all your efforts.
The following steps come together to help your business create and execute a successful content marketing strategy. Here are the simplified steps:
1. Set SMART goals.
Your content marketing strategy requires clear goals to help you focus on what needs to be done and to direct your efforts to help you make progress and success. Well-defined goals are required even before any content is published. These goals are called SMART goals because they are Specific, Measurable, Attainable, Relevant, and Time-bound. Some of the goals that can be incorporated into a content marketing strategy are brand awareness, customer engagement, brand loyalty, quality lead generation, and customer education. To successfully set SMART content marketing goals, follow these steps:
Define content marketing goals for your organization
Define your target audience
Use their respective performance metrics or indicators
Track your progress towards your content marketing goals and compare actual results with expected results
Credits: Wikipedia - License: CC BY-SA 4.0
2. Define your audience.
Successful content marketing starts with knowing how to identify your target audience, because how can you start creating the right content and not just any random content without knowing who your target audience is first? In order to be able to understand and identify your target audience, the following questions need to be addressed:
Who are our current customers?
What can our customers get by choosing us over competitors?
What problems do my company seek to solve with our products / services?
Answering these questions will help you better understand your target audience, and it may now be easier to gather more information about your target audience by collecting demographic data about visitors, social media followers, and email subscribers, which will further provide data on their age, gender, income, employment status etc. Another way to learn more about your target audience is to get customer reviews or feedback.
3. Creating a content calendar.
Creating a content calendar is an activity that occurs before you research and create content, because the calendar helps you plan what kind of content will be published and when.
A content calendar is a written schedule that details when and where a content creator plans to publish upcoming content. This can be done with spreadsheets and tools like Microsoft Excel and Google Sheets that make scheduling this content easy and free.
The main purpose of a content calendar that helps you achieve your marketing strategy is to stay organized in your content creation, which is key. It is important to know the right time to publish content, and this requires effective planning; Lack of planning is a mistake that should be avoided when implementing a content marketing strategy. Here are the ways a content calendar can help your content marketing strategy:
Be sure to stick to your content-related activities / objectives.
Provides easier and more efficient project management and collaboration when the team participates in content creation, bringing everyone together on one page.
Displays an overview of upcoming activities related to scheduled content.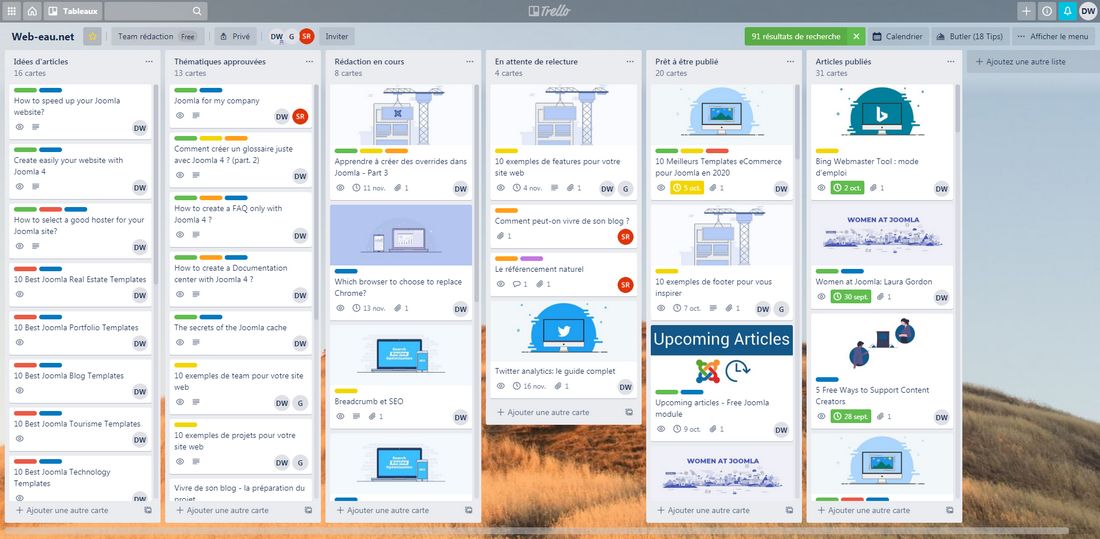 Figure: The content calendar of web-eau.net is powered by Trello
4. Determine the type of content that you need to create.
The success of your content marketing strategy depends on the success of the content you create, as different types of content help you connect with different customer groups in different ways. Every effort should be made for the content you select to be interesting, valuable, shareable, relevant, and work best for both you and your audience as it forms an integral part of content marketing strategy. Your content marketing strategy should not just include one type of content, as other types of visual content tend to increase engagement. As you've probably heard the phrase "content is king," and while blog posts are quite popular and extremely effective, there are other types of content that can play an important role in achieving your strategic goals. These include:
Buzz-sumo is a tool you can use to combine the content types and discover the content with the potential for social media sharing and search to increase engagement, influence and outreach opportunities.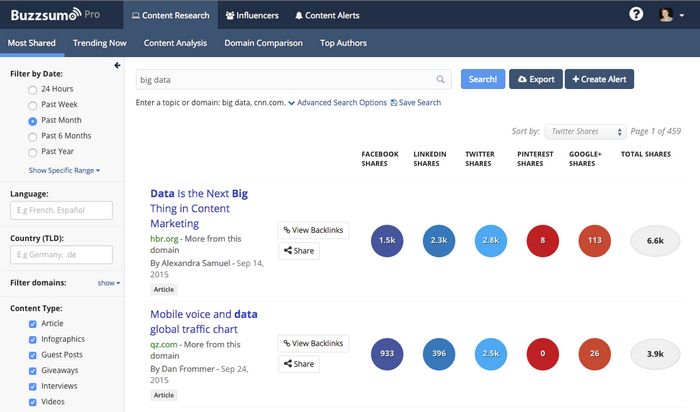 Figure: Buzz Sumo Chrome extension demo
5. Discover the best content channels.
Your content needs to be able to reach the right audience to achieve your goals, but finding the channel that best suits your goals and needs can be difficult due to the many distribution channels.
Choosing the best channel will allow you to understand where you already have an audience, and you will be able to identify the best content channel that will work well with your content marketing strategy. Some steps need to be undertaken; they include the following:
Knowing your goals: Choosing the right channel does not depend entirely on the channel, but on the goals you intend to achieve with the channel, so you need to define your goals; these goals should be as specific as possible.
Defining Your Dimension: Measure the success of your channel against your goals as a benchmark for determining the effectiveness of your content marketing strategy.
Identifying your channels.
Prioritizing your top channel.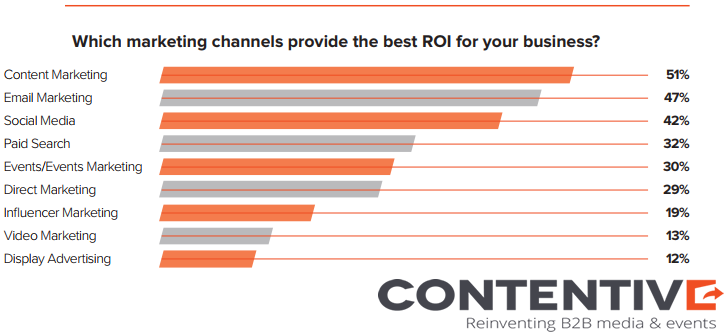 Source: digitalmarketingcommunity.com
6. Establish key performance indicators [KPIs].
To get the most out of your content marketing strategy, you need to set goals as outlined above, as well as set KPIs. The right KPIs are essential to be able to channel the right energy to achieve these goals.
KPIs [Key Performance Indicators] are essentially measurable values for building your brand, and the best way to achieve those goals is to make them specific and measurable. The most important metric for content marketing is a KPI, which measures how well your content is performing, helps announce when goals have been met, and also identifies your audience and predicts how they will react to content.
Along with successfully setting content marketing goals, it is also possible to follow SMART goals to make the most of your KPIs. There are many ways to make your KPIs achievable, and as a content marketer, you have specific metrics at your fingertips that can help and make it easier to achieve them.
7. Allocation of resources.
This implies the best way to distribute the marketing budget among the various activities using the available resources to achieve the goals of the marketing strategy, which requires determining the best course of action that can make the most of the available resources.
Assets in this situation are distributed and managed in such a manner that supports these goals. A marketing strategy encompasses various campaign activities depending on the size of the business and with respect to this, the objective here is to determine how to spend rightly in the most economical way while ensuring this aligns with the achievement of strategic goals.
Resource allocation must strike a balance between priorities and competing needs. Ultimately, in order to successfully allocate resources, it is necessary to establish the desired end goal of the business and make decisions about the target audience, the type of content to be created, the person that is responsible for creating it, etc.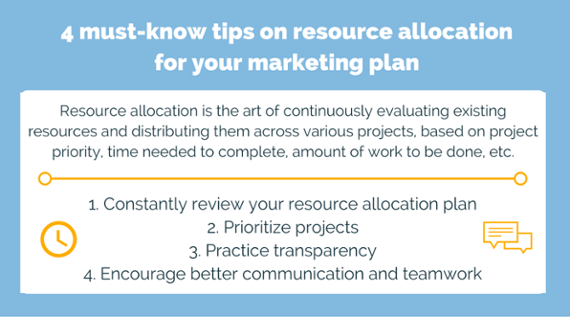 Source: explore.easyprojects.net
8. Content creation.
A content marketing strategy really takes a lot of preparation before creating content, as you can see in the steps listed above. Content creation involves brainstorming topic ideas that can be written or visualized around those ideas that engage your target audience.
Your research needs to be detailed for accurate information, and keyword research can also be implemented to identify key terms that will improve both search rankings and SEO.
When it's finally time to start creating or writing your content, make sure your brand speaks for itself and that your brand's personality is reflected in the written content. You should be able to find a balance between being extremely professional or casual, and know when to use them individually or interchangeably.
Content that provides useful and free information to your audience, in turn helps to attract customers, draws new visitors to your site, and often helps increase conversions for your business. These steps can be followed to create great content:
Define content marketing goals.
Identify and understand your target audience.
Create your buyer persona [fictional representations of your ideal audience to help you understand and provide an idea of how to relate to these people as real people.]
Know the content type you plan on producing.
Update content that has been previously published.
Promotion of content using social media or other channels.

Source: gathercontent.com
9. Assess your current marketing strategy.
You need to define your top goals and then use metrics to track your content marketing efforts. You might also want to know how your content compares to your competitors and how the new content performs in the market. The metrics / indicators that you can track to better understand this includes traffic, conversions, engagement and SEO performance.
10. Syndicate and Market.
Content distribution is the practice of sharing, publishing and promoting content to an online audience in a variety of media formats across a variety of channels. If your content doesn't reach your target audience, it doesn't seem to have existed.
Social media is one that plays a major role in the distribution of content, but other channels like email marketing can be utilized to spread your content to your subscribers. Regardless of the type of content you create, content distribution must happen to achieve its goal, but it is important that you know where and how you will publish, and possibly market or promote it.
According to CMI, "Content marketing is specifically centered as a strategic marketing approach that focuses on creating and distributing valuable, relevant and consistent content to attract and retain a clearly defined audience." There are basically three types of content distribution channels:
Owned content distribution [owned channels are content properties owned by your company that allows you to control when and how content is published.]
Distribution of earned content [Earned channels are places where third parties share, distribute or promote your content for free.]
Paid content distribution [this is when your company pays to distribute content through certain channels.]
11. Measuring Results.
Measure the results of your company's content marketing strategy to determine how successful it can be by comparing actual results against established goals, because without them there is nothing to measure performance against, and it's likewise important to track and analyze the performance of each content individually to identify the success of each content to determine how successful each content is, and to see what is performing better and what is not.
The KPIs set at the beginning of this journey will be analyzed over time to see if differences have been made and if goals have been met. And when setting goals, try to make them realistic and achievable. The following metrics are essential to measure the effectiveness of your profit-making strategy:
Changes in Sales or Conversions
Overall Content and Backlinks
The following tools can be used to measure results:
Google Analytics; to monitor content performance.
Buzzsumo and other social analytics tools; to measure social media activity.
Optin-Monster's conversion analysis dashboard; to measure the success of your marketing campaign.
Other tools to track content marketing success are Google Alerts and Mentions.
SEMRush can help you measure KPIs for ranking your content in search.
Measuring or tracking your progress is the last step in the process of developing a content marketing strategy, as you can periodically adjust your content marketing strategy to stay up to date. It is not only about collecting data, but also about analyzing it in order to understand and identify where improvements are needed and what might be the best way to achieve goals.
How to carry out the responsibility of creating content to promote your brand?
Content creation is an important responsibility, and sometimes webmasters are so busy with other tasks that they hardly have time to do it all. Top content sometimes requires help as well as a certain level of commitment. To start taking responsibility for content creation, you can use one of these two options:
Take responsibility yourself.

Creating your own content requires you to develop a writing strategy, which includes identifying new topics and deciding what form the content will take. Perhaps hire an assistant to handle small things when they need to be assigned or to save time.

The responsibilities of a content creator include:

Making a list of industry related topics

Preparation of well-structured drafts

Create and prepare content for brand promotion
Outsource your content.

Hiring a content outsourcing team involves using a third party to create content on behalf of your business, so you don't have to do it yourself, and you can be sure they will only focus on creating great content for personal branding. This team of experts will encourage time management, spend time researching to develop new ideas, and create engaging content.

Regardless of your choice of content responsibility, building a personal brand with great content is bound to take a worthwhile effort.
Expenditure
Expenses
Authenticity & Target
Group Knowledge
Variety
of topics
Text quality
Multilingual
Scalable
Freelancer
Average: briefing, coordination, proofreading and invoice processing
Depends on the specific author
Depends on the specific author
High
Depends on the specific author
Possible
High: require substantial additional coordination efforts
Agency
High: complex briefing, coordination, proofreading and invoice processing
High: payment mostly on an hourly basis
Depends on the agency and briefing
High: often has special areas of expertise
High: appropriately prepared for different channels
Depends on the agency
Text production only partially scalable due to the large number of customers
Do-It-Yourself
Very high: the writing process for inexperienced authors is very time-consuming
High: with less time for competencies, associated costs will increase
High: but the danger of operational blindness is always present
Depends on the company itself
Variable: depends on the abilities and expertise of the people responsible
Depends on the company and team
Low: the time available for content creation is limited
In-House Copywriter
High: coordination costs time but the content creation process is simplified
Very high: permanent staff have fixed costs
High: but there is a danger of operational blindness in the long term
Depends on the company itself
High: writing for one company facilitates high linguistic and content quality
Depends on the company and team
Text production only partially scalable due to limited capacities
Outsourcing content creation comparison
Why is content marketing important to your brand?
Content marketing is at the core of the most successful digital marketing campaigns, and it's important because it seeks answers to your audience's questions while connecting with customers to build trust, improve conversions and generate leads. It's the base upon which your online business is promoted.
To help you better understand the importance of content marketing, we've compiled this list of the most important benefits.
1. Content marketing can make you stand out from the competition.


In a digital world like the Internet, there is a need to stand out from the competition, and content marketing has once again proven its importance as an effective way for companies, especially small businesses, to stand out and make a name for themselves.

How do you intend to represent your brand through content marketing and development? Developing a brand voice to express personality can help create unique content for your business and connect with your target audience, while showing the digital world what makes your company special, different, great and better.
2. A profitable way to attract more potential customers.


Another essential of content marketing is the ability to generate new leads for your business, which is not only profitable but also beneficial for generating prospects. Content marketing can take a long time, keep in mind, that the results may take some time before your efforts are clearly visible or noticed.
3. Good content can help increase your conversion rate.


The content you create and post influences your conversion rate, so your content should always contain a clear call to action 'CTA' that directs your readers to take further action. It's important to note that content marketing conversion rates are about 6x higher than other digital marketing methods.

By building trust and establishing relationships, you can increase your conversion rates with them. The following tips can be used to attract readers with your content and increase conversions in the process.

Create a compelling call to action.

Optimize your content for conversion-oriented keywords.

Create smart, high-converting headlines.

Use compelling and attractive visuals.
4. Let your brand showcase its expertise in this area.


Your target audience will like to recognize that they may be dealing with professionals who are well-equipped with the knowledge in the field, that you are aware of all industry activities, and that they can trust what your brand is saying and can make the right decisions and stay up to date from following your brand.

This should be used as an opportunity to show your brand to consumers and the industry. For your brand to showcase its expertise in this area, content marketing demonstrates its importance and provides a means by which your audience can get the information they need to provide answers to their questions, and equivalently solutions to their problems, thereby promoting better understanding.

Consumers will always be more willing and more likely to follow or patronize businesses with proven knowledge and expertise than others, and that can be achieved through continuous content publishing of educative and well-informed content.
War Room recently produced a guide called A Guide to the Digital Marketing Customer Journey. It's worth the read.
5. Optimized content will help you improve your SEO efforts and increase visibility.


Content Marketing plays a vital role in building and improving SEO 'search engine optimization' by increasing the visibility of your online business. SEO requires more consistent, optimized and quality content to help improve your search engine rankings.

Research shows that content creation is the most effective SEO technique, and posting more content on your site will give you the opportunity to rank for the keywords your target users are looking for. The more content, the longer visitors will stay on your site; that helps your SEO.
6. Your potential customers and customers demand quality content.


More than 50% of Internet users are interested in reading about brands they want to know more about, this Internet users includes your prospects and customers, because they also need quality content which is the main reason why they follow your work, a fact that is fundamental and should be considered when planning your content creation, thereby creating personalized, audience-focused content; that is your goal.
7. Boost your brand reputation with content marketing to build trust.


Your business can build relationships with your audience by creating content, because the better the content your consumers see you post, the more likely your business is to have a positive relationship with them. In this way, building trust and confidence in your content.

Building a positive brand reputation and good content can help you build the trust of your customers and potential customers. The more value you bring to your content, the easier it is to gain the trust of your target audience. When your prospects and customers see you posting content consistently across all platforms, they'll see you as an industry leader.
8. Publishing great content to build better customer relationships.


You always want to build better customer relationships, so content marketing should help you achieve that. While content marketing expands your reach in securing new leads and potential customers; It can also be used to improve your relationship with that audience.

The key to creating effective content that will help you connect with passionate audiences is focusing on topics that fit their needs, interests, and concerns. And don't forget to show your personality, so consumers can understand your brand and what makes you unique.

It also strengthens your relationship with your existing customers, and where the prospect eventually turns into a customer is not an opportunity to stop providing high quality content, as you still need to build loyalty. Brand loyalty by strengthening those customer relationships that have already been built will most definitely lead to repeat sales and make your audience feel closer to your brand.

Remember, the more value your audience gets from your content, the more likely they are to come back, which drives repeat sales and increases your conversion rate.
9. Content marketing is compatible with most other digital marketing strategies.


Most businesses use more than one digital marketing strategy, so the importance of content marketing lies in consistent, high-quality content that's compatible with all other strategies and can be integrated well enough to work in tandem to achieve the goals of a digital marketing strategy.

These other digital marketing strategies can be email marketing, social media marketing, etc. Even if multiple strategies can be used, a content marketing strategy remains the best.
10. Your audience will stay longer as they come back again and again.
11. Good content strengthens your company's authority.
12. Quality content increases brand awareness.
13. Loyal fans of the brand come from the provision of great content.
14. Content is important at all stages of the marketing channel.
Why content marketing is important to your personal brand is no longer a question of concern because this section of the article has successfully integrated content marketing in all areas where it can add value, and be of great importance. Content marketing is indeed a force that combines digital marketing campaigns and other strategies to ultimately succeed.
Build the foundation of your personal brand
Special connection with the audience and building relationships can be achieved through a better and less aggressive marketing method that includes authentic content. These tips ensure online authenticity and builds brand foundation:
Consistency.

It takes time to build a personal brand, as the trust that any brand needs to grow can't be won overnight from their audience. But with the help of consistent supply of value-added content, showing the audience that you can be trusted and will continue to provide content on a regular basis can be achievable while strengthening your brand foundation.
Engage and interact.

It's essential to engage with posts when they are being uploaded on their various web pages; it's quite unproductive to post and not respond to anyone's comment under the post because your audience will always have questions they need answers to, and you should be there as an industry leader to provide help. The reason it is called social media or an online community is so that interactions can take place. If you still believe there's no point responding to these comments, then there's absolutely no reason for having to publish the post in the first place, as one of the main reasons for posting should be to engage with the audience.
Don't advertise: tell but not sell

Your goal instead should be to educate your audience with the type of content you are showing them; sharing these ideas and transferring values will lead to the achievement of the ultimate goal.
Wrapping up
Personal branding helps your business create value for your customers, and by consistently delivering on your brand promises, this gradually builds people's trust in your brand and through this process, you earn their loyalty. Regardless of your industry, personal branding should be one of your top priorities because your personal brand reflects what you have to offer your audience in the long run.
Since this article is centered on building your brand through content marketing, you need to make sure your content is original and distinct from others, that is, even if your competitors have already addressed a specific topic, make sure you deliver to your audience a different perspective or point of view that shows that you have the necessary experience and knowledge required in your industry; most importantly remember to always be consistent in your work to achieve desired and expected results.