One of the biggest strenght of Joomla is its flexibility. Thanks to the overrides, you don't need to install heavy extensions to get a great website. Many Joomla users asked me how to add an override in their website. Despite the process is pretty simple, I've written this quick tutorial for you.
What are the benefits of overrides?
Your content is powered by Joomla
You can manage it easlily, like any other content powered by Joomla. Adding and/or editing the content is really simple.
No need to install and maintain an extension
No extension to install and maintain. No learning curve to endure. Forget the heavy CCK and others page builders, you only need Joomla.
Improve your Joomla skills with the overrides
All you'll have to do is to follow this tutorial to learn and improve your Joomla skills. All the steps are fully explained and illustrated.
Joomla is free for everyone and forever.
Because of Joomla magic, creating and sharing powerful overrides is free and you won't ever have to pay for a licence or a training course.
How to add an override in Joomla?
Basically, an override is a new file added in the template. By selecting this file in the extension parameters (component, module, article, etc.), you indicate to this Joomla extension (native or not) which display your content must have.
Because there is no limitation here, you can add as many overrides you want in your Joomla website. All my overrides are free and you can use them on as many website you want. I have more than hundred in this website ;)
The process described below to add an overide in you website is the same for all the override displayed in the Joomla Overrides Collection.
In this tutorial and as example, we'll add the override Agenda Activities in the Joomla native module Articles Newsflash.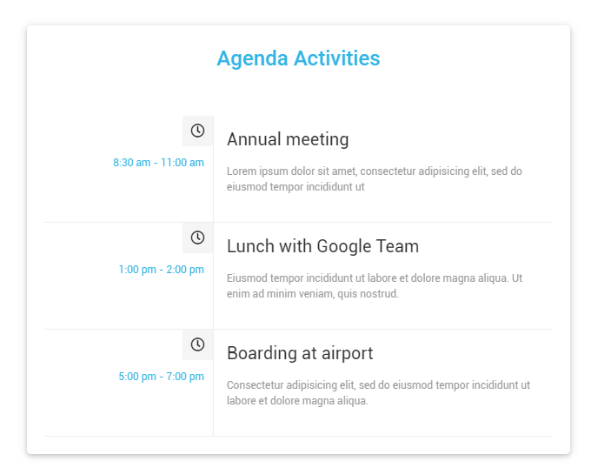 This tutorial is based on mod_articles_news. You'll have to adapt it if your override doesn't apply to this module
#1 - Download your override
On the bottom of the page, you'll find the button to download the override. No need to register or login, just click.
In the zip archive, there is a php file named as the override: override-agenda-activities.php
#2 - Transfer your override
To import your override into your Joomla website, you have to connect your FTP client to the server where your website is hosted.
Open your FTP client (FileZilla, f.ex) and connect to your server
On your server, locate and open the folder: /public_html / templates / [name-of-your-template] / html / mod_articles_news
Drag and drop the override-agenda-activities.php file you've downloaded earlier, into this folder.
To control that your file have been transferred in the right folder, open your template in the Joomla admin panel and check the folder mod_articles_news:
If your override contains additional CSS, you must copy/past them into the custom.css file of your template (user.css in Protostar)
BONUS - How to display your override
Click on the New button to create a new Article News module if you need to create a new one. Otherwise, open your Article News module
Click on the Advanced tab
For the Layout parameter, select your override override-agendas-activities created earlier, in the dropdown:
Once you're done with the others parameters of the module (position, page, etc.), click on the Save & Close button. Your override is online :)