As a webmaster ot a web agency, you understand that every project needs a distinct combination of originality, value, and visual appeal. However, the path from idea to execution may be challenging particularly if you are always on the lookout for the appropriate design materials. That is where MonsterONE comes in. It is a one-of-a-kind membership that can revolutionize your productivity and make your web design performance better. In this post, we will look at how MonsterONE can simplify your construction process, save time, and open up a world of creative possibilities.
What Is MonsterONE & Who Can Benefit From This Subscription?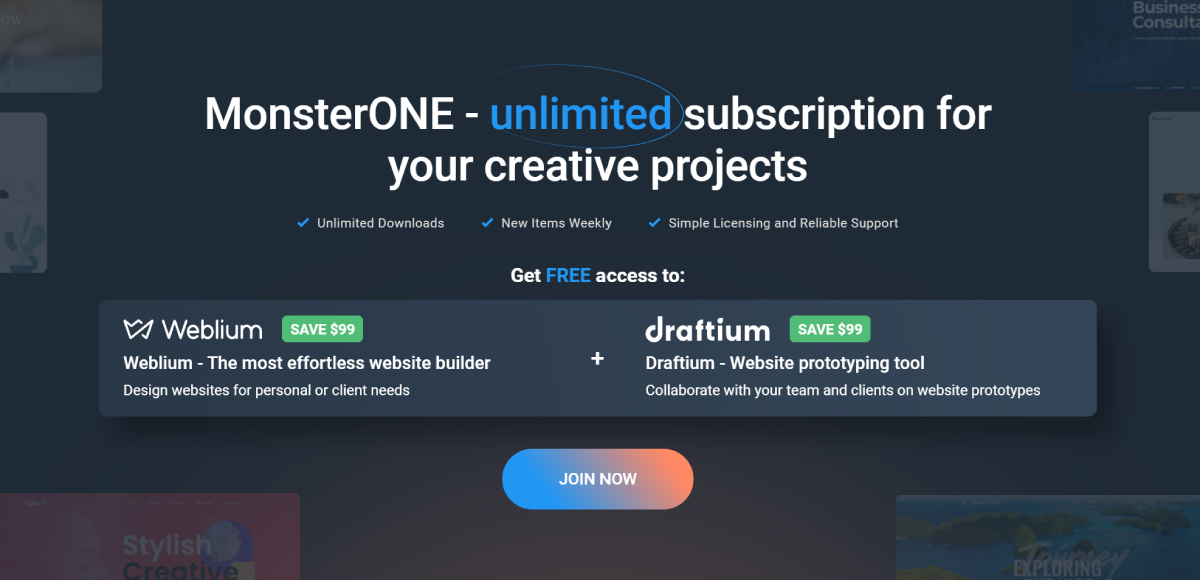 MonsterONE is a revolutionary subscription service that is ready to assist you in a creative design journey. It is a perfect match for those who are tired of searching for multiple high-quality assets. Thanks to unlimited downloads, there is no need to sift through a massive number of tools. Everything is gathered in one place.
In addition to this, MonsterONE can help not only web developers and designers implement their ideas.
It is also suitable for business owners who are looking for ways to enhance their branding, and marketing materials, and promote their company on the Internet.
Content creators can take advantage of the subscription to make their online presence better and produce more posts quickly.
Students and educators will be happy to access valuable resources to craft eye-catching and interactive presentations and other studying materials.
Graphic designers and video editors will be ready to bring their creative visions to life using a wide range of digital tools.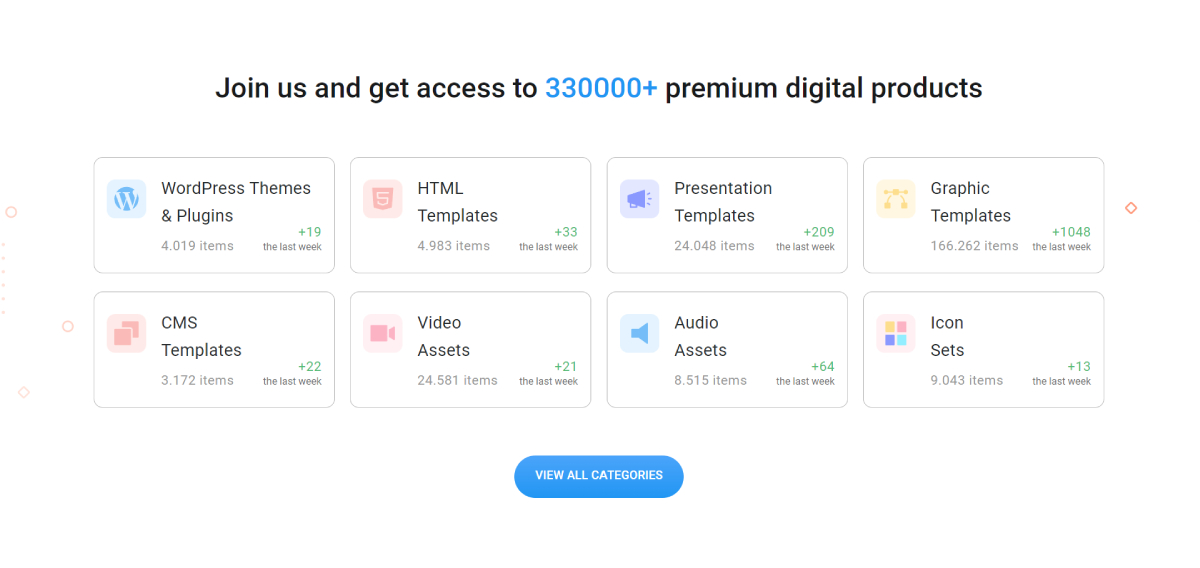 What Can You Find in the MonsterONE Assortment?
These days, MonsterONE offers you a collection of 313k+ digital items. In addition to this, the assortment is updated regularly.
Joomla and other CMS templates
Joomla templates are pre-designed layouts for Joomla. They are suitable for blogs, news websites and many popular niches (for instance, beauty, sports, education, and others). These templates are special solutions for creating an exclusive online project or updating an existing one.
eCommerce themes
eCommerce themes are designed for various platforms including Shopify, Magento, PrestaShop, VirtueMart, OpenCart, free Joomla 4 templates, and others.
Plugins
These include high-quality and useful PrestaShop modules and WordPress plugins.
Presentation templates
MonsterONE provides a wide range of visual components. They will help you make the best impact on your audience. You will be ready to communicate the most complex messages. You can download PSD templates, resume templates, vector graphics, illustrations, and many other products.
Graphic and design resources
Each template is designed by professionals and compatible with the most popular software (such as PowerPoint and Keynote). Each of them will provide you with an expressive and individual presentation style.
Video and audio resources
Video resources contain effects for such popular programs as After Effects, Premiere Pro, and Final Cut PRO. As for the audio resources, you will get stock sounds and effects.
How Much Does It Cost to Be a MonsterONE Subscriber?
Creative


$96 / year or $18 / month

All-in-One PRO


$249 / year

All-in-One Lifetime


$749 is a one-time fee
Graphic and design assets
Joomla and CMS themes
Joomla and CMS themes
Presentation templates
eCommerce themes
eCommerce themes
Video and audio assets
Plugins
Plugins
Unlimited projects
Graphic and design assets
Graphic and design assets
One-year technical support
Presentation templates
Presentation templates
Video and audio assets
Video and audio assets
Unlimited projects
Unlimited projects
One-year technical support
One-year technical support
+ Weblium (an effortless website builder with AI writing, thanks to ChatGPT integration) & Draftium (a website prototyping tool)
Unlimited lifetime access
We recommend you hurry up to get one of the paid plans because TemplateMonster shares some decent discounts on the site.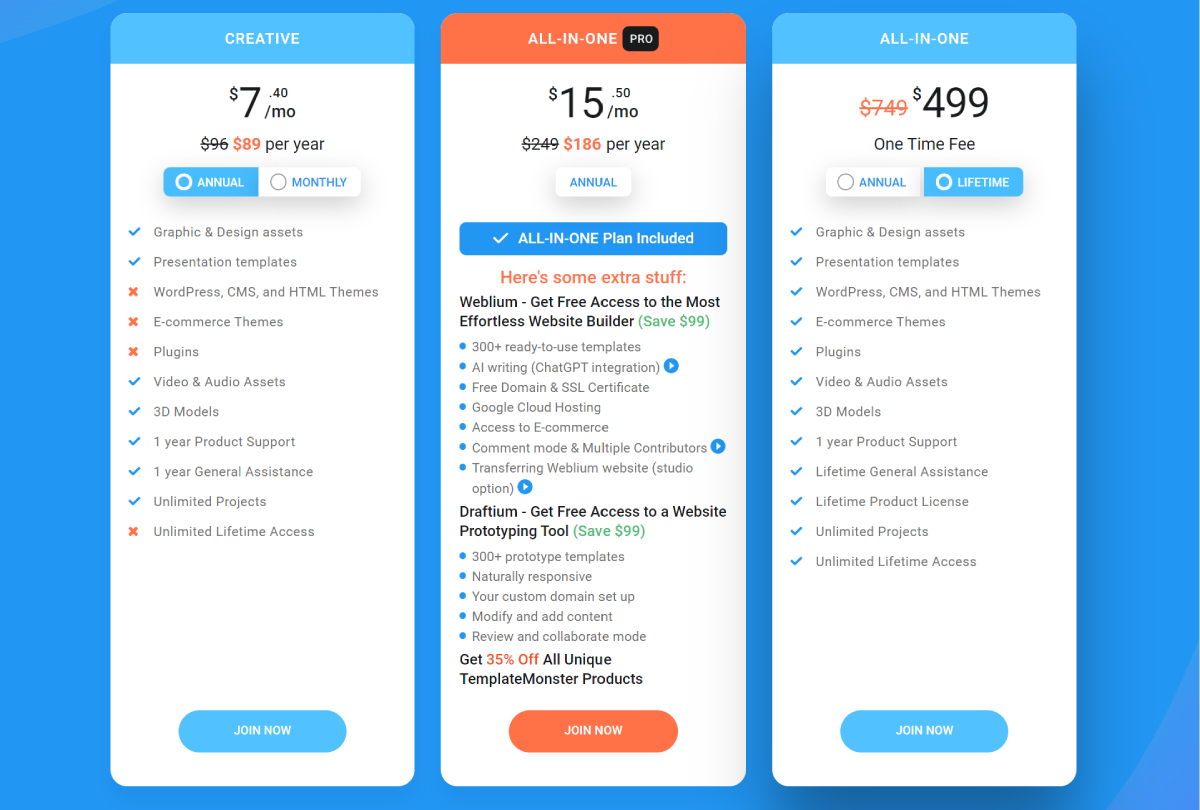 Furthermore, you can always create a free account to check out the basic advantages of MonsterONE. It will give you a chance to download free digital products:
free website templates best;
graphic design templates free download;
presentation templates.
Extra Advantages of MonsterONE
It is also worth mentioning that it is safe to be a MonsterONE subscriber. The marketplace provides secure payment methods to make your experience pleasant and smooth. All the payments are processed in a Level 1 PCI-compliant environment. Then, you are free to choose from trusted payment methods, including Visa, Mastercard, and PayPal. If you want to cancel your subscription, it is possible to do it anytime.
The subscription covers different forms of help. You can get general assistance when the team helps with simple technical issues without any complex and long troubleshooting. There is also technical support using a ticket system. It is available Monday through Friday. Moreover, you will get info on item updates and open ticket status updates. Subscribers can also ask questions on features or technical details of items.
How to Earn Money With MonsterONE?
Together with the MonsterONE Affiliate Program, you can earn up to 30% commission for every client you refer to MonsterONE. All you need to do is create and verify your affiliate account, share your links, track the stats, and start getting your commission. The affiliate program has a wide variety of benefits, including a personal affiliate assistant or commission for sub-affiliates. Additionally, you will get a lot of free promotional tools and an affiliate dashboard that allows you to see all the sales.

If you are wondering where to sell digital products for free, you can become an author and upload your items to MonsterONE. In this case, you need to submit a form, wait for the feedback from the MonsterONE team, and start your activity. You will have a chance to sell different items, including themes & plugins, graphics, presentation templates, fonts, video, and audio. What is more, it is your chance to grow your audience and get a significant income. If you upload more products, you will get more downloads. More downloads will bring you more earnings.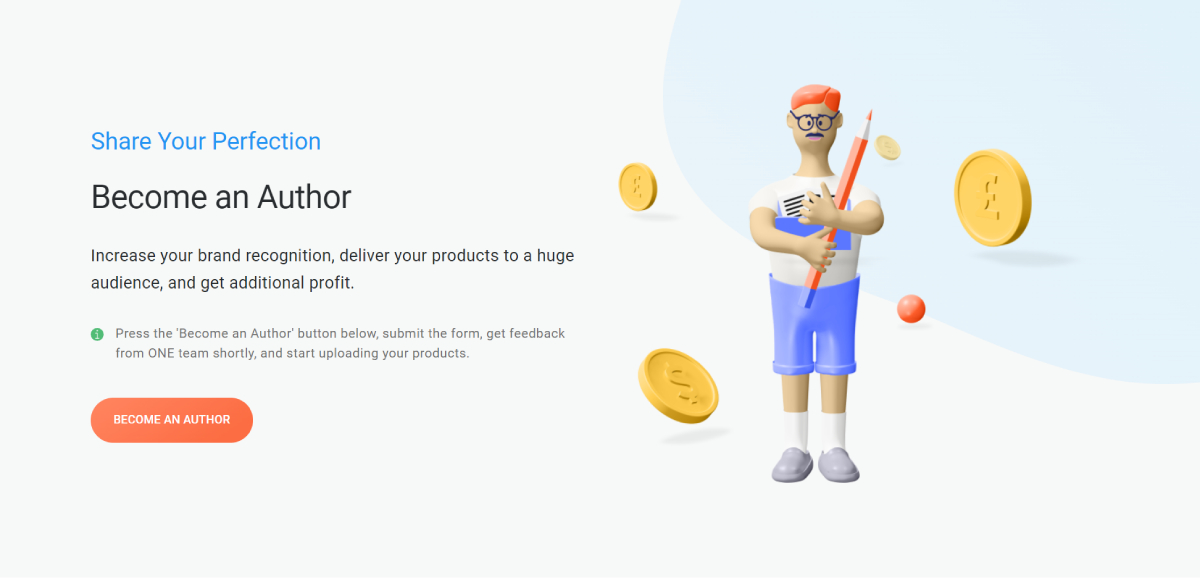 A Few Words in Conclusion
With an infinite number of design elements at your disposal, MonsterONE enables you to fulfill the needs of your customers and the digital world. It provides everything you need to not just exist but succeed in the challenging web design environment, from attractive visuals to practical templates. Do not forget that our exclusive promo code "webeau10" gives 10% OFF every MonsterONE plan.
Thanks for reading!