We celebrate the International Women's day on the 8th March (International women's rights day, in few countries) but it's also important to remind that women are equal of men and it's essential to protect and respect their rights every days of the year but nowadays, women make up just 24% of the tech workforce, thus more and more women are encouraged to pursue careers in the tech industry. Initiatives such as Girls who Code and conferences such as European Women in Technology support this movement passionately.
And at Joomla, the trend is not much different. Because there is no fatality, we must do things in others ways and be more inclusive. In our community, some women are really amazing and I've decided to introduce you some of them. These women are so inspiring and so motivating. Really. Read their stories, their advices, their thoughts and you'll be convinced.
Because we need really each others, I do hope that these portraits will inspire others women to embrace a career in tech sector and/or to join the Joomla Community.
Women's portrait at Joomla: Sandra Decoux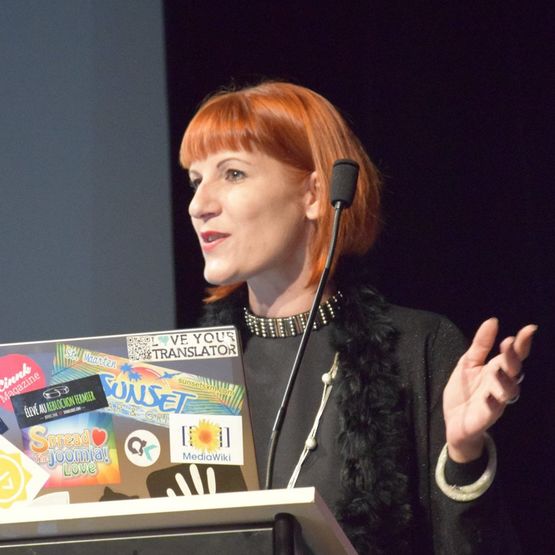 Sandra Decoux
What's your name and your role at Joomla?
I'm Sandra Decoux, I'm a Joomla volunteer / user since 2008. I won't list all my roles in the Joomla Project, the list would be tool long :D You can just check the honor role tab of my profile on the volunteers portal and you'll see how much I was involved. To summarize, I've been active in all departments, production, marketing & communication legal & finance, events, operations and Programs.
In 2017 and 2018, I've given an insane amount of hours for the project, up to 70 hours a week, Joomla was my top priority and the only thing I succeeded to care about, and no, I didn't end in an asylum :-) it's the opposite, Joomla has been my therapy. But you can't do that much for long, so since beginning of 2019, and for many reasons, I've decided to leave most teams, and I stay active only in a few teams.
What excites you about your daily work?
Everything, as long as it's in front of my monitors (I'm not a people person)! I really like building new websites, working on design, creating templates for newsletters, working on SEO, writing CSS...
Women's portrait at Joomla
What did you study?
Thanks to make me feel old! It was a long long time ago, during another century... I was at University before Internet exists. :p
I have a Master in Languages & Tourism (and other areas like marketing). At that time, my plan was to work in the tourism industry on the French Riviera. But life decided differently. Even if my studies seem to not be related to the web industry, it's still useful for me as I often work for tourism companies and I speak (bad) English half of the time.
When did you start to think about pursuing a career in tech?
I never did! It just happened by accident.Women's portrait at Joomla
When we opened a real estate agency in Annecy in 2003, we of course needed a website. But we couldn't afford what we wanted. So I decided to do it myself. I started with a Wanadoo site (we all have to start somewhere!), then a friend of mine talked to me about Dreamweaver. Here we go. I built from scratch a HTML + CSS websites in 2 languages, with over 400 pages. I improved my knowledge little by little. My main strength was SEO. Seemed Google liked me. Our agency was one of the 2 best ranked websites for real estate in Annecy. We were also selling properties in the Caribbean so I was creating a website for each development, and then few websites for family members.
In 2006/2007, we decided to change of life, move to Saint-Martin (Caribbean) and transform our web agency into an agency for property diagnostics. Once again, life decided differently! In 2007, one of the most famous web agency in Annecy (Annecy Bernard) asked me to come to work with them for a while so that I can discover other languages. It was such a wonderful experience with really fantastic people! They told me I should stop real estate and start building websites as a living. Ok, let's go! We left for the Caribbean, transformed the real estate company into a web agency. IDIM Transaction become IDIM Web at the end of 2007.
What challenges are you facing as a woman working in tech?
As a woman? Well, sorry, I never had to face special challenges "as a woman". I would say it's the complete opposite, it has always been a real advantage. I think it's in fact easier to be a woman in tech than a man (but we may not be numerous to think that). Most bad experiences in work I had were with women...
Whatever it's in France or even more in SXM, I've never felt I had to "fight" more to be heard because I was a woman, I have never felt I have less "rights", I never had a lower salary than a man because I'm a woman. Just show your value, it's not a matter of gender, it's a matter of skills, professionalism, rigor.
What would your advice to women considering pursuing a career in tech be?
Do what you like to do, keep on improving your knowledge, be curious, stay attentive, be professional, organized, consistent. In fact, I don't have advices for women specifically and/or for tech. I think advices can be the same whatever area you work in, whatever you're a man or a woman.
Are there any specific Book/Blogs/Apps you enjoy & recommend ?
Related to the web industry, I read Abondance articles every week (since 2003, what a fantastic resource!), Infomaniak news (my hosting company, they are fantastic), and then no specific blog, it can be anything that catches my attention.Women's portrait at Joomla
Regarding books, when I have time (and I don't have much), it's mostly related to CSS (I still prefer reading on paper).
Outside web, since a few month I'm focused on fitness / healthy food blogs/videos/books.
Who or what inspires you?
In the JoomlaSphere, I would not have done all I did without Michael Babker (he's gonna kill me…). I learned so many things with him. So yes, I presume we can say he inspired me and was the reason I contributed.
What do you enjoy doing outside of work?
Travelling (the most frequent questions people are asking me it's "in which part of the world are you currently?"), cooking, playing cards, taking care of my house, sport training. Nothing really exciting.
3 tips you would give your younger self?
Well, none in fact. I'm not used to look behind, Life taught me to live the present day only, yesterday is gone, tomorrow is an illusion. I probably took sometimes bad decisions but I don't regret any. Even when you take a bad decision, there's something to learn and there's always something positive happening, it's all that matter to me.
Others women's portrait at Joomla