The points listed below are all important, not exhaustive and can be performed in any order. It is up to you to adapt them according to your situation. Do not forget to fully back up your Joomla site before and after each intervention on extensions (installation and removal).
15 points to check before launching your website
#1 - Check your content
A careful and thorough proofreading of all your textual content is imperative. Badly written content riddled with mistakes is now unforgivable and will scare your visitors away. Grammar, punctuation, turns of phrase and spelling are the ambassadors of your branding. Because some of your competitors aren't, you must be irreproachable on these points. If necessary, hire a proofreader in case of doubt.
#2 - Check the W3C compliance
Even if you have chosen a professional template for your Joomla website, make sure the end result meets the W3C standards. To be sure, you can test your website here: www.validator.w3.org . Yes, you must definitely fix the errors before going live. But 100% compliance, meaning zero errors in the W3C validation tool, is often hard to achieve (especially if your website has advanced functionality). Less errors you have, better it is.
>#3 Check the site map
15 points to check before launching your website
The site map is something VERY useful for your visitors but also for search engines. Do not hesitate to display this kind of page on your website with the most relevant and useful links on. To generate and display a site map on your Joomla website, there are some excellent extensions listed on the JED : http://extensions.joomla.org/category/structure-a-navigation/site-map.
#4 - Check the SEO
It is not enough to activate few parameters in the backend and to publish a few articles to rank on Google's first page. It's a little bit more complicated than that, of course.
4.1 - The tags and the titles
You must be absolutely certain that every page and every post that you want to be referenced in search engine results pages always have the correct metadata tags filled out. If you have any doubts about this, you probably haven't!
Do not neglect this crucial step, take each content and the corresponding metadata tags so that they meet the expectations of search engines.
Meta title : the page title is one of the most important elements for SEO. This tag should describe in a few words (50 to 60 characters) the content of the page for your visitors. Make sure that the content of this tag is unique, that it includes the keywords most important to you, and that this description matches the content of the page.
Meta description : this tag is also important for your SEO. It is this description that is displayed in the list of results of Google to present a page. Make sure your descriptions are different on each page and that they contain your keywords. A description with 150 to 160 characters is recommended here.
Finally, make sure that the words contained in the title and meta description tags also appear several times in the content of the page.

4.2 - Check the search engines
In order for your Joomla site to be indexed and referenced on the search engines that interest you, you must tell them the birth of your "baby" by submitting ... your sitemap!
Depending on the extension you have chosen to generate your sitemap, you may be able to submit it directly to search engines from your Joomla administration panel. Otherwise, you will have to indicate to each search engine, the URL of your sitemap so that the content and the tree structure of your site are taken into account.
Do not forget to submit to the search engines, your sitemap.xml for the content, the images, the videos and for the mobile version.
#5 - Check the Google tools
15 points to check before launching your website
To be very honest, it's hard to do SEO without Google. Of course, we can do it but if we want to make our life easier, it is better to use their free tools.
5.1 - Search Console
As soon as possible, submit your sitemap.xml into your Search Console. Note that you can also submit your sitemap after going live but the sooner the better as the data and information provided by Google can be very useful, such as your ranking on keywords, status indexing of your pages, etc. Search Console reports to you any indexing issues on your site, security issues, or title and description issues.
#5.2 - Universal Analytics
The launch of your new website web is probably a very important instant for you. It is very important that you can track and analyze your site traffic with a trusted statistical tool. That's good, Google offers one: Google analytics. The information provided will allow you to see and follow the evolution of your site's traffic on various points: ranking, positioning, objectives, marketing, sales, etc.
To benefit from these resources, you simply need to add a tracking code to your site. It's an operation that is done very easily, most often directly in the template. Without this type of statistical tool, you have no way of knowing if your work is paying off or if you need to review and improve certain pages and parts of your site to be more successful.
#6 - Check the 404 errors
15 points to check before launching your website
First of all, check that the plugin System - Redirect is published. This plugin enables the Joomla Redirect system to catch missing pages and redirect users. It will helps you to control the navigation and URLs errors on your website. These errors are listed in the component Redirect.
Natively, Joomla's 404 error page needs some tweaking. But, it may be that your template offers a new page that is more "selling" by encouraging visitors to return to the home page of your site, by adding a search bar, for example. This page must really be functional, even optimized.
Here too, you can use extensions to help you detect and correct any 404 errors that may be present on your Joomla site.
#7 - Check the Joomla cache
Deactivated throughout the development phase of the website, the cache must be activated for production. For this, you must activate the cache setting in the System and the plugin System - Page Cache.
To understand and deepen the Joomla cache system, I encourage you to consult the official documentation.
Image Source: Web Integrations
#8 - Check the legal notices
Legal notices, terms of conditions, privacy policy, these are very important pages that you must not be forgotten to display on your website accordingly to your local legislation. Please, do not copy models from other websites because more often this content will not suit your situation at all and you will be in violation. If your business is in a regulated industry, seek help from a lawyer or a legal advisor.
#9 - Check the contacts
15 points to check before launching your website
Put yourself in your visitors' shoes and see if they can contact you easily:
Does your contact form work? Do you receive the email test? (test it, at least)
Is your contact / information page easy to find?
Think "mobile" by giving mobile users the possibility of calling you with a simple click of their finger.
If your Joomla site is an online store, you should also check that the entire sales process is working perfectly from A to Z. Test all the forms on your site one by one before going live to be absolutely certain that everything is perfectly functional.
#10 - Check the social media
Today, it is unthinkable to publish a new website without having buttons for sharing content on social media. Ditto for the buttons that allow you to find yourself on the main social media from your website (Facebook page, Twitter account, LinkedIn, Pinterest, Instagram, etc.). It is essential to offer your visitors the possibility of sharing your content with their networks.
Do not forget to also offer an RSS feed to your users so that they can easily subscribe to your blog if you have one.
#11 - Check the navigation
Test and have your website navigation tested. Again and again ! Ask friends outside of your project to find specific information on your site so they can give you feedback to make sure navigation is intuitive. It is estimated that beyond 3 pages, if the information is not found, it is necessary to review the organization of the content.
User experience is Google's hobbyhorse and anything that makes life easier for Internet users (and mobile users) should be given priority. Think about it. Seriously.
#12 - Check the links
15 points to check before launching your website
Whether your links are inbound or outbound, make sure all of your hyperlinks are clearly identifiable and working properly by simply clicking on them. A dead or broken link is always a source of frustration for an Internet user. In addition, links have a significant importance for your SEO. So you have to take care of it. Here is a handy tool that will allow you to test your links: W3C checklink.
If you want to be sure to monitor and check all the broken links on your website, simply control the plugin System - Redirect is published. It will collect all the broken links and the list will be displayed by the Redirect component.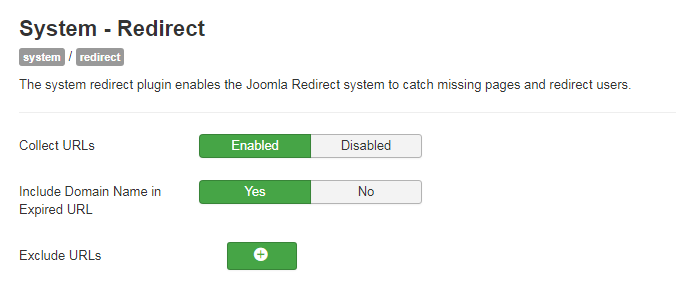 #13 - Check the loading speed
Measuring the loading time of your website pages before launch should be mandatory. If the speed is too slow (ie greater than 3 seconds), you will need to improve and optimize your pages so that the loading time becomes reasonable. Too long a loading time will cause you to lose visitors, increase your bounce rate and penalize you in terms of traffic on both desktop and mobile.
To check this essential point, I suggest you Google Page Speed Insight. In addition to giving you your speed score, this site will also tell you the points that penalize you for working them.
#14 - Check the accessibility
15 points to check before launching your website
Accessibility is no more an option, nowadays. For many official organizations, it's a mandatory and we must all be concerned with this important issue. Once again, the W3C has issued rules in this point: Web Content Accessibility Guidelines. If your website is based in the USA, you also have to check and meet the Americans with Disabilities Act.
#15 - Check the responsiveness
Even if your Joomla template is responsive design, I encourage you to check that its displays correctly on the major web browsers: Chrome, Firefox, Edge, Safari, Android, Opera, etc. on desktop, tablet and mobile. Indeed, it sometimes happens that IE8 poses some display problems.
Conclusion
So if you thought you were done, it looks like you still have a bit of work to do before launching your nice Joomla website. But if you have worked conscientiously throughout your project, chances are that most of the points above will be just a formality.
Once again, this check-list is not exhaustive. According to your Joomla project, some advices are useful and some, less. It's up to you to adapt this check-list to your situation. Don't hesitate to share your experience by commenting on this article.
15 points to check before launching your website