Responsive Tables
The easiest way to have responsive HTML tables in Joomla
concept and operation
Using an HTML table to display data is a great solution for your visitors but unfortunately it's not responsive design. In the best case, most of the data in your table will not be visible on the screen. In the worst case, your unresponsive HTML table will ruin the display of your layout.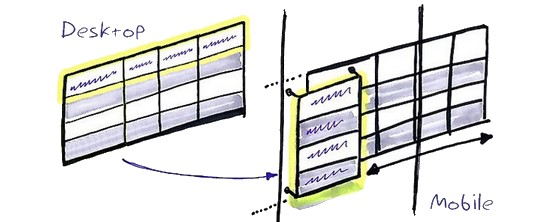 It is to answer this equation that the Responsive Tables plugin was created in 2014. Its operating principle is very simple:
On desktop, the table is normally displayed over the entire available width.
On mobile, the table toggles so that the first line (the one containing the column headings) becomes the first column. The rows of the table then slide horizontally under the first column which remains fixed so as to allow the user to access all the data in the table.
To spread the Joomla love, Responsive Tables is free. For you, for all and for ever. What are you waiting to use it?
Warning
Due to abuses from some indelicate users, I have no other choice to request payment for the support on all my free Joomla extensions from
1st November 2022
. Thanks for your understanding.
As simple as that
On mobile, your HTML table switches by magic so that your data are still perfectly visible and readable for your visitors. Simply brilliant.
SEO friendly
Using Responsive Tables on your Joomla website, you can add lot's of very useful data for your visitors, which is a great benefit for your SEO.
Responsive Design
With this free plugin, your HTML table and your data are now perfectly displayed on desktop, tablet and mobile, without any problem.
User experience on top
The frontend display has been specially designed to maximize the user experience of your visitors on your website and any kind of device.
Communauty choice
Responsive Tables has been designated as a very popular extension on the JED due to the large number of downloads by many users.
Easy to use
Easy to install, easy to setup and easy to maintain, this lightweight extension is your new Joomla's best friend and you'll love it! Install it now.
others free Joomla extensions